Autumn Ronda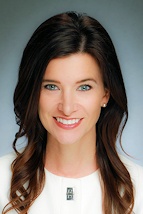 This email address is being protected from spambots. You need JavaScript enabled to view it.
Autumn Ronda is an attorney in the Tax and Wealth Planning Department of Valensi Rose, PLC. Autumn earned her MBA concurrently with her law degree, which provides her with exceptional insight into the questions and concerns of her clients, allowing her to act not only as a legal advisor, but also as a strategic business partner.

Autumn specializes in designing and implementing sophisticated estate planning strategies for her clients. She also handles complex trust and probate administration matters, and practices in a wide range of other transactional areas, including income tax planning, international tax planning, charitable planning, and business and real estate transactions. She is designated as a Certified Legal Specialist in Estate Planning, Trust & Probate Law by the State Bar of California.

Autumn is an Adjunct Professor of Law at Loyola Law School in Los Angeles, where she teaches the law school's course in Estate Planning. In addition to teaching, Autumn regularly writes for legal publications and is a speaker at prestigious legal conferences.
Autumn is the recipient of the 2017 Beverly Hills Bar Association Board of Governors Award. Autumn was designated a "Rising Star" among Southern California lawyers in 2013, 2014, 2015, 2016, 2017 and 2018 by Super Lawyers Magazine, an honor received by only 2.5 percent of lawyers under age 40. Autumn was included in the Los Angeles Magazine's September 2015 edition as a top 50 Up-and-Coming female attorney in Sothern California.

Autumn was selected by her peers for inclusion in the 2016, 2017 and 2018 editions of "Best Lawyers in America" for her contributions to the Trust and Estates community. She was also honored at the 2014 Los Angeles Business Journal's "Women Making a Difference" Awards.

Throughout her academic and professional careers, Autumn has consistently served in leadership roles. Autumn served as a Board Member of Make-A-Wish® Greater Los Angeles from 2014 until 2016, where she led the Planned Giving Committee. She also served on the board of the Beverly Hills Bar Association's Trusts and Estates Section for five years, acting as its Chairperson in 2016. In addition, Autumn served as President of the Beverly Hills Bar Association's Barristers, Chair of the State Bar of California's Young Tax Lawyers Committee, and Chair of the Los Angeles County Bar Association's Young Tax Lawyers Committee.

Autumn understands the importance of giving back to her community, and participates in many pro bono activities. Autumn founded and chaired the BHBA Barristers Pro Bono Committee, which interfaces with local legal organizations to facilitate joint programming, connecting those members of her community who are in need of free legal services with attorneys looking to serve in a pro bono capacity. In conjunction with these pursuits, she designed and published, a monthly newsletter that reaches thousands of attorneys and highlights volunteer opportunities at local legal aid organizations.

Autumn also served as the Chair of the BHBA Barristers Wills for Heroes Committee, a national project that provides complimentary basic estate planning documents to first responders. Additionally, Autumn designed a program that provides basic estate planning services to low-income persons affected by HIV & AIDS through the Los Angeles County Bar Association AIDS Legal Services Project.

A first generation college graduate, Autumn recognizes the need for mentorship of younger persons who may otherwise lack natural mentors. She regularly volunteers her time as a mentor to college and law students, new attorneys, and other young persons. Autumn founded and chaired the BHBA Barristers Mentorship Committee, and designed the BHBA's formal Mentorship Program.

Autumn holds a Bachelor of Science in Economics and Business Administration from Saint Mary's College of California, a Juris Doctor from Southwestern University School of Law, a Master of Business Administration from Loyola Marymount University, and a Master of Laws in Taxation from Loyola Law School.
AREAS OF PRACTICE
Tax and Wealth Planning Group
Entertainment Group
Business and Finance Group
BAR ADMISSIONS:
State Bar of California, 2007
EDUCATION:
Loyola Law School, Los Angeles, CA, Master of Laws in Taxation, With High Distinction, 2009
Loyola Marymount University, Los Angeles, CA, Master of Business Administration, Concentration in Finance, 2006
Southwestern University School of Law, Los Angeles, CA, Juris Doctor, 2006
Saint Mary's College of California, Moraga, CA, Bachelor of Science, Business Administration, Magna Cum Laude, 2002
PROFESSIONAL LEADERSHIP:
Make-A-Wish® Greater Los Angeles – Board Member (2014 – 2016)
Beverly Hills Bar Association, Trusts and Estates Section – Chair (2015 – 2016); Board Member (2011 – 2016)
Beverly Hills Bar Association, Barristers Board of Governors – President (2013 – 2014); Board Member (2009 – 2016)
Beverly Hills Bar Foundation – Board Member (2012 – 2014)
Beverly Hills Bar Association, Board of Governors – Board Member (2011 – 2015)
Beverly Hills Bar Association, Pro Bono Committee – Founder; Chair (2012 – 2016)
Beverly Hills Bar Association, Mentorship Committee – Founder; Chair (2012 – 2016)
Wills for Heroes Foundation – California Chair (2010 – present)
California Society of CPAs, Estate Planning Committee – Board Member (2011 – 2013)
State Bar of California, Taxation Section, Young Tax Lawyers Committee – President (2010 – 2015); Board Member (2008 – 2016)
Los Angeles County Bar, Taxation Section, Young Tax Lawyers Committee – President (2010 – 2015); Board Member (2008 – 2016)