Rachel E. Balchum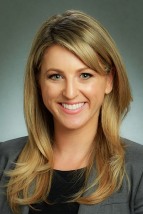 This email address is being protected from spambots. You need JavaScript enabled to view it.
Rachel E. Balchum practices in the areas of litigation, and tax and wealth planning.
Prior to joining Valensi Rose, Ms. Balchum was an associate attorney at a boutique law firm in Westlake Village. Earlier she was a law clerk in the Employment Rights Project of Bet Tzedek Legal Services, where she litigated cases before the Labor Commissioner. Prior to that, she clerked at Valensi Rose from 2009 to 2010.
She volunteers at Bet Tzedek's Advanced Planning and Conservatorship Clinic, and at the Harriet Buhai Center for Family Law, working with victims of domestic violence.
Ms. Balchum earned her J.D. in 2013 from the McGeorge School of Law at the University of the Pacific, in Sacramento. She did her undergraduate work at San Diego State University, earning a B.A. in International Business in 2008, including a year of studies in business and law at Saint Teresa of Jesus Catholic University, in Avila, Spain. While in college, she served as a legal extern with the United Nations Development Program in Guatemala.
Admitted to practice in California, Rachel is a member of the Beverly Hills Bar Association, where she has served on the Barristers Board of Governors and co-chaired the Pro Bono Committee; the Los Angeles County Bar Association; and the San Fernando Valley Bar Association.
AREAS OF PRACTICE:
Litigation
Tax and Wealth Planning
EDUCATION:
University of the Pacific, McGeorge School of Law, Sacramento, CA, Juris Doctor, 2013
San Diego State University, San Diego, CA, B.A. in International Business, with emphases in Finance and Spanish, 2008
Universidad Católica Santa Teresa de Jesús de Ávila, Avila, Spain, Business and Law, 2008
BAR ADMISSIONS:
State Bar of California, 2015
PROFESSIONAL LEADERSHIP:
Beverly Hills Bar Association, Barristers Board of Governors and Pro Bono Committee co-chair, 2014
Los Angeles County Bar Association
San Fernando Valley Bar Association
Bet Tzedek Advanced Planning and Conservatorship Clinic, Volunteer
Harriet Buhai Center for Family Law, Volunteer