Mayer Nazarian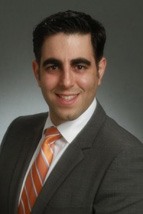 This email address is being protected from spambots. You need JavaScript enabled to view it.
vCard/VCF

Mayer Nazarian is a transactional tax attorney uniquely trained within top regional and national tax firms. With depth and breadth of expertise in business and taxation, he advises and advocates for his clients, providing the planning, research and consultation they need.
Mayer is dedicated to assisting business owners at all stages of their company's lifecycle, from formation and operation to sale or dissolution of the company. Additionally, Mayer has successfully negotiated on his clients' behalf before the Internal Revenue Service, the California Franchise Tax Board, the California State Board of Equalization, and other taxing authorities.
Mayer began his career as a tax professional with the accounting firm of Holthouse, Carlin and Van Trigt, LLP and went on to become a tax manager with Deloitte Tax, LLP. He is fluent in several languages, including Farsi, Hebrew, Italian, and Spanish.
Mayer takes pride in his extensive community and volunteer work, from pro bono legal services to working with a non-profit organization providing musical instruments and music therapy to children with chronic illnesses.
AREAS OF PRACTICE:
Tax and Wealth Planning Group
Business and Finance Group
AREAS OF EXPERTISE:
Tax Planning
Tax Research
Tax Consultation
Tax Controversy
Business and Finance
Estate Planning
EDUCATION:
University of Southern California Gould School of Law, Los Angeles, CA – Juris Doctor, 2002
University of Southern California Marshall School of Business, Los Angeles, CA – Master of Business Taxation, 2002
University of California at Los Angeles – Bachelor of Arts in Economics with a Minor in Accounting, 1998
PROFESSIONAL LEADERSHIP:
Beverly Hills Bar Association (Taxation Section) – Chair
State Bar of California – Member
American Bar Association (Taxation Section) – Member
Los Angeles County Bar Association (Taxation Section) – Member
Beverly Hills Bar Association (Business Law, Taxation, and Trust & Estates Sections) – Member
Treasurer, Children's Music Fund
Pro Bono services: Bet Tzedek Legal Services
BAR ADMISSIONS:
PUBLICATIONS AND SPEAKING ENGAGEMENTS:
"Innovative Tax Planning with Passive Losses", Mayer Nazarian and Philip Holthouse, AICPA National Real Estate Conference
"The Domestic Production Activity Deduction: Are you leaving money on the table?" – Lecture presented before professionals on valuable tax deductions for companies operating in the U.S.
"Shakedown at Gucci Gulch: A Tale of Death, Money & Taxes" – Researcher for publication by Edward J. McCaffery & Linda R. Cohen related to taxation and politics.
"Fair Not Flat: How to Make the Tax System Better and Simpler" – Researcher for book by Edward J. McCaffery related to alternative tax structure.