Susan Sabry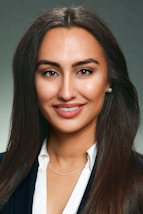 This email address is being protected from spambots. You need JavaScript enabled to view it.
vCard/VCF

Susan Sabry is an estate planning and tax planning attorney with extensive experience in high-stakes negotiations and strategic planning. She focuses on helping clients synchronize estate planning needs, healthy family dynamics, and tax planning incentives.
Prior to joining Valensi Rose, Susan gained experience in a wide variety of sectors. For seven years, she worked in the mortgage and real estate industry.
After attending law school, she consulted to the Department of Homeland Security and the United States Attorney's Office in the Central District of California. She then became a criminal prosecutor, successfully trying cases for the Ventura County District Attorney's Office. She brings the same tenacity and resourcefulness when representing highly sensitive and private client matters.
Susan's extensive range of legal and business experience has helped her develop a strong network of clients and colleagues in Hollywood, the Los Angeles Mayor's Office, startup/technological companies, the University of California, federal and state law enforcement agencies, community organizations, and charitable foundations.
She is a graduate of Loyola Law School, Los Angeles, where she was a member of the International Commercial Arbitration Moot Court and the Civil Justice Program.
Susan attended the University of California, Berkeley on a merit scholarship. She received the California Alumni Association Leadership Award for her philanthropic efforts to improve education and professional development for orphans in Afghanistan and for Afghan-Americans in the United States.
Susan speaks Spanish, Farsi, Farsi-Dari and English. She continues to be actively involved in philanthropic efforts domestically and abroad.
AREAS OF PRACTICE:
Tax and Wealth Planning Group
Business and Finance Group
BAR ADMISSIONS:
EDUCATION:
J.D. - Loyola Law School, 2015
International Arbitration Moot Court Competition
BA, University of California, Berkeley, Double Major; Political Science, Near Eastern Studies, 2010
Merit Scholarship
California Alumni Association Leadership Award
Near Eastern Studies, Honors
PUBLICATIONS AND SPEAKING ENGAGEMENTS:
Afghan American Conference: TED-style talk, "Neurons That Fire Together Wire Together."
PROFESSIONAL LEADERSHIP:
University of California Berkeley Afghan Student's Association: President
Beverly Hills Bar Association, Trusts and Estates Section
Los Angeles County Bar Association, Trusts and Estates Section
Santa Monica Bar Association, Probate and Trust Section
San Fernando Bar Association, Probate and Estate Planning Section
Consumer Attorney's Association of Los Angeles
Women Lawyer's Association of Los Angeles
Afghan American Conference